This weekend I finished my VERY FIRST Christmas craft since my daughter was born…a craft aimed at her.  The fact that she's almost sixteen months old is beside the point, let's just say there is a reason why this is NOT primarily a craft/DIY blog!
Whadya think? (I apologize in advance for the less-than-stellar pics, but it was late at night and I don't have a very good camera. Oh well!)
I saw THIS over on Pinterest several months ago and thought it was super-awesome and unique!  You see so many repeat ideas, but to me, this one stood out.  Plus, I am an absolute SUCKER for anything that can become a tradition, and this had TRADITION written all over it!  Here's hers:
(Photo credit: The Empty Bobbin)
HERE is the original post by emptybobbinsewing.com.  She's got a set of instructions as a PDF on her site, but it's a pretty straightforward project: a large felt tree with felt ornaments.  Hang it on the wall with command strips.  Not a tough concept.  But still so fun!
But, I'll be honest with you – the tree part intimidated me….don't ask me why, but I just envisioned my tree ending up lopsided, and the perfectionist in me quaked at the thought of seeing it wonky year after year after year….get my drift?  Not that things have to be perfect, but if they are going to be IMperfect, it needs to be imperfect and cute, not imperfect due to my incompetence!  (It's okay – I know I'm a little nutty!  This probably makes sense to nobody but me anyway!! haha!)
So here goes – here's what you need to make this lovely no-sew goodie!
Materials:
Felt: 3/4 yard of 72″ green felt
8.5×11 Package of multi-colored felt
Elmer's glue
Scissors
Ruler
Optional: Heat-n-Bond, ric rac, ribbon, scrapbooking doo-dads (i.e., miniature snowflakes, holly berries, etc.), little gemstones, glitter glue, needle and thread, cute buttons, etc…..the sky is the limit!
Here's how we did it!
Measure your felt – you want the bottom to be 24 inches wide by 40 inches tall.  Cut a big rectangle.
Then we marked out where the branches would need to be.  I'm not sure if this was really all that complicated, or if it was just the fact that it was late at night, but this was HARD for us and took two brains to do basic math….pitiful!  haha!  But we got some laughs out of it!  I almost posted our "cipherings" but it was a little too embarrassing!!
If you ARE NOT a perfectionist, then I recommend folding the felt in half and winging it freehand – LOTS, LOTS, LOTS, LOTS easier!!  Unfortunately, I never do ANYTHING the easy way!! haha!
What we ended up doing, as you'll see below, is folding the felt in half so the sides would match, then marking the angle that would make the top of the tree.  (See the picture – I know it's confusing!)
1.  Then we measured from the END OF THE RULER (not the point where the star will be, but the other end) to the bottom of the tree.
2.  Then divide that number by five (for five points) which told us how far apart the tips of the branches would need to be – make a short mark at each point.
3.  Then to go back to determine how long of a mark to make, we started at the bottom, and made a two-inch mark, then a three-inch mark, then a four-inch, then a five-inch.  The very top branch, we angled more steeply to give the tree the illusion of growing "in" – in a more "treelike" manner.
4.  Lastly, using a ruler, we connected the outside point to the INside of the mark – again, please see the picture (I know it's dark – sorry!).  This was the hardest part of the entire process!
Then cut out your tree, and breathe a huge sigh of relief that the hardest part is complete! Yay for you!!
Annnnnndd……now the fun begins! It's ornament time!!
My mom TOTALLY saved the day on this!  She dug in her craft coffers from when I was a little girl (which wasn't THAT long ago, right?  ::wink, wink::) and found a TON of Christmas templates!  Made life sooooo easy! Here is a PDF of the ORNAMENT TEMPLATES  we used – its' not the prettiest PDF, but it IS functional!
So, the tracing and cutting begins:
So here's our tree with all the ornaments cut out, but before we decorated them:
Then it was time for a break, but then back to decorate!!  Again, Mom saved the day with all the goodies she brought over, including glitter glue, ric rac, bells, scrapbooking jewels, etc.
The ornaments can be done in a myriad of ways – no way is right, and that's what made it so fun!  This is truly a project that the whole family can do together – and kids will love it!  You could even incorporate characters they know, or use fun fabrics bonded onto the felt base with Heat-n-Bond or fabric glue!  You could even invent a tradition where you make new ornaments to add to the collection every year.  There's no limit except our imagination!
Here's some pics of the finished ornaments – oh, I am SO proud!
and one more pic of the tree itself:
It took four command poster strips in order to secure the tree to the wall, but I used eight, just because I wanted it to lay nice and flat.  Already Anna Claire thinks it's fun to take the ornaments off the tree and carry them around, but next year I think she'll REALLY love being able to decorate "her" tree over, and over and over again – differently each time – just the way SHE wants!  She's already interested….but only in pulling them off and then running off with them!
I have plans to make a train set to adhere to the wall underneath the tree, but that's a project for another week – NOT Christmas week! Maybe that's what we'll do together next year!
BTW – We get Mom-and-Nana-of-the-Week for this one!! 
Linking up at Beneath My Heart, The Nesting Place, Time Warp Wife, Far Above Rubies, An Original Belle, Home Stories A2Z, Growing Home, Debbiedoos, Amy's Finer Things and Embellishing Life: (Yes, I know its excessive, but, hey, I was excited!)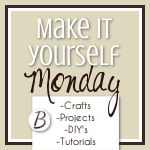 Pin It